Hythe Community Primary School is a maintained primary school in the Surrey. Our school is happy, caring and dedicated to providing the best possible education for every pupil in a stimulating and safe environment. In September 2004 the school opened a Specialist Centre for Children with Learning Difficulties known as The Harbour Centre. The Centre can accommodate up to 12 children in Key Stage 2 and is part of the Local Education Authority's strategy to ensure that children with learning difficulties have some mainstream experience.
Our pupils all have a moderate learning difficulty and may also have additional learning, medical or behavioural needs. There is an annual, county-wide forum to select the children who would benefit from the specialist support at the Centre. We have a high staff to low pupil ratio, meaning we can offer a personalised curriculum for each child. Activities are multisensory and differentiated to the children's needs. Pupils are usually taught English and maths in the Centre, and included into their mainstream classes when appropriate.
We first heard of Talk for Writing when we heard Pie speak at a conference several years ago and felt inspired to try the approach in the Centre. We were hooked! All of our children, with their variety of challenges, have found something that they could succeed at. We knew it was a winning formula for us when we first saw two of our non-verbal children participating in storytelling with gusto and children with significant language and learning difficulties were no longer lost for words! The use of actions and familiar text meant that they were able to convey their ideas and abilities in new ways. Since then, we have never looked back.
We are now offering Taster Mornings for staff from other schools that work with children with special education needs. This will be a chance for you to observe a Talk for Writing lesson in a specialist setting. You will also have the chance to talk with staff about how you could implement this approach in your own context.
Current training offered
The Harbour Centre is currently unable to offer taster mornings due to other commitments. However, if you are based in a SEND setting and need TfW support, please contact Angela Humphreys directly.
Taster mornings cost £50 and last for a half day without lunch.
Due to the nature of the setting, places are strictly limited.
For more details and to book, email Angela at harbourcentre@talk4writing.com
Contact
Centre training webpage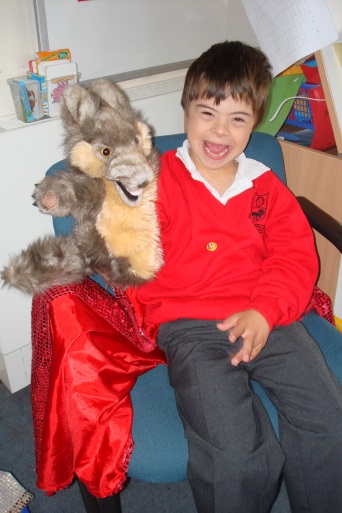 Zahra joined the Centre aged 7. Here is her writing work before and after Talk for Writing: