What is Talk for Writing?
Talk for Writing is an engaging teaching framework developed by Pie Corbett, supported by Julia Strong and the Talk for Writing team. It is powerful because it is based on the principles of how children learn. It enables children to imitate the language they need for a particular topic orally, before reading and analysing it, and then writing their own version. An overview of the approach can be seen here.
Does Talk for Writing work?
Quite reasonably, teachers often ask, 'Is Talk for Writing effective?' Since 2016 when the new SATs came into place, we have been analysing the data from our 16 training centres and comparing our standards with the national picture. We know that the centres are faithful to the approach and so we can see the impact of Talk for Writing and Talk for Reading by comparison with the rest of the country.
Our schools are almost all in challenging areas. We do have one small village school and one large town school where pupil premium and free school meals are low. However, the other 14 schools serve deprived areas where the challenges are great. St Matthews in Birmingham, for instance, has 88% pupil premium. The data shows that on average our schools have 32% pupil premium which is above the national average of 23%. The percentage of children for whom English is an additional language is 42% whereas nationally it stands at just over 21%. Interestingly, the percentage of pupils with special needs is only slightly above the national average (16% compared to a national figure of 14.6%). We believe that this is because where schools have a well-developed, systematic, coherent and cumulative curriculum, the number of children who struggle is reduced.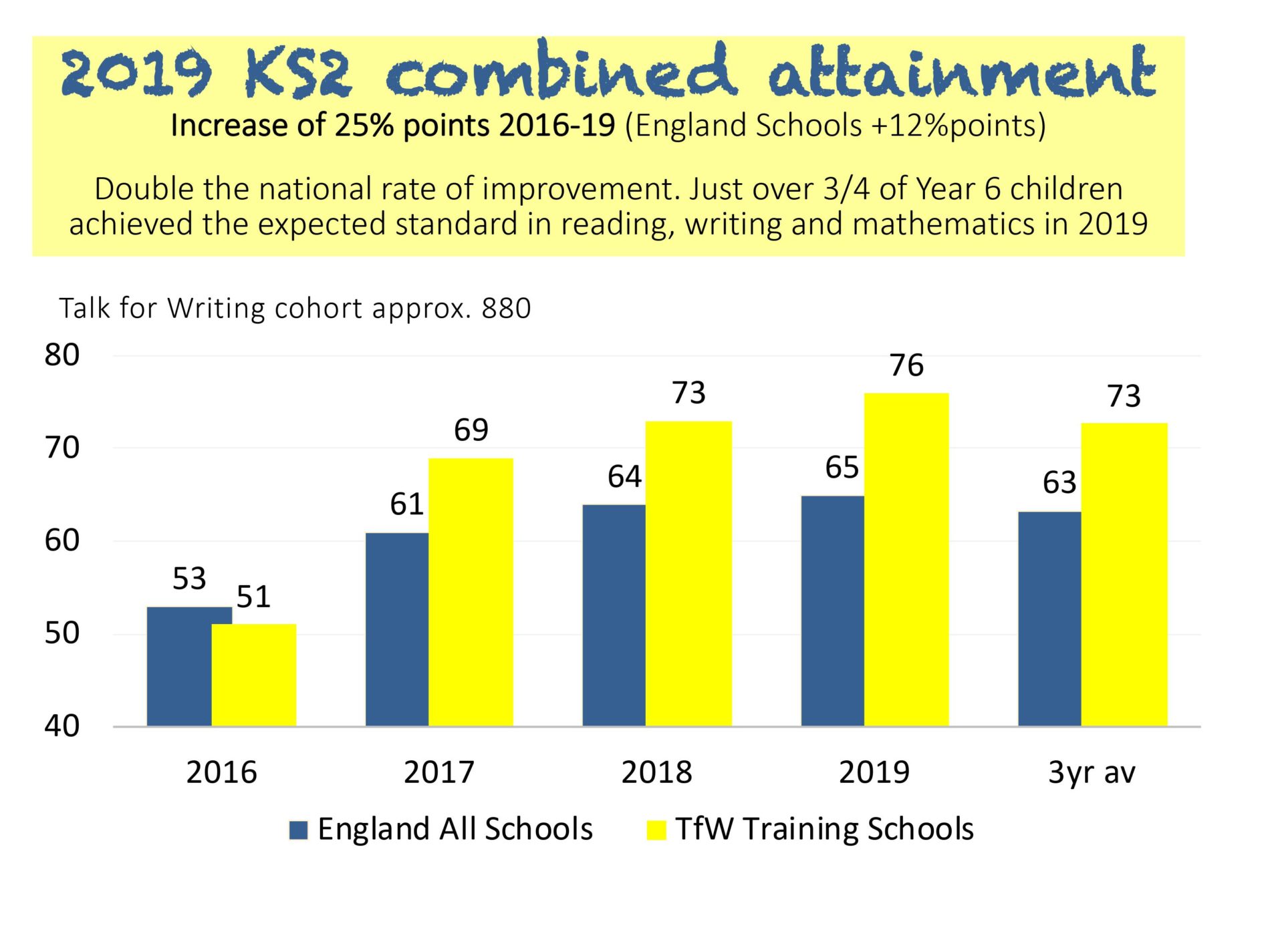 So, what is the impact? How effective is Talk for Writing? The data from the last four years can be viewed here. You can see comparable data from 2016 as well as the three-year average. The data shows that Talk for Writing schools, despite serving more challenging areas, attain at a significantly higher standard than the national average. The data demonstrates that since 2016, there has been an improving picture and the impact is not just in writing. Our schools use the teaching approaches in all subjects. Children are taught the language structures they need to think and express themselves as mathematicians, scientists and historians. Our schools use the core direct teaching strategies around well-defined, cumulative curriculum, informed by formative assessment.
Our targets for the coming years will be to strengthen reading and writing at greater depth, to focusing on those not yet attaining the expected standard and to strengthen the percentage of children attaining the expected standard across the board. At the same time, we are strengthening our work in other subjects.
Do work with our trainers, visit our centres and read the various books, it will all have a positive impact on teaching, but also be aware that to raise standards in a school requires time, leadership and commitment. It cannot just be done through one day of inset training. For this reason, we are increasingly working with schools on two-year projects. Working with committed schools on developing and embedding Talk for Writing over time is what leads to effective change, higher standards and improved progress.
Pie Corbett
Download the Training Centres report
Academic research related to Talk for Writing
"Our direct experience tells us that TfW is an incredibly powerful teaching and learning toolkit, that develops students' metacognitive toolkit, as well as their oracy and their writing skills. Most importantly, our students tell us time and again that it really helps, and their improving rates of progress show us that this is indeed the case. As a National Leader of Education said on a recent visit to JOG, the effect on a school that truly embraces and embeds the TfW approach can be 'transformational'."Louise Hamilton, deputy head at John of Gaunt School
"I'm asked many times, "Can this work in my school?" Well, yes, it can. If it can work with a catchment in a deprived area, then why can it not work anywhere? We know and feel we are doing things right for the children, giving them the best experiences, through a creative curriculum that inspires them to be amazing writers. If you are thinking about Talk for Writing as an option for your school, my advice would be to go and see the results, create an action plan and be determined that it will work by ensuring there are no obstacles to achieving success."Ian Clennan, headteacher of Selby Community Primary School
"All members of staff have been excited by what their classes have produced in their writing in only our first year of using Talk for Writing as a whole-school strategy. In many cases, our children have achieved beyond what is expected, in terms of data and pupil engagement in English lessons and are increasingly able to transfer their knowledge to other areas of the curriculum. "I don't know what to write, Miss …" has become a phrase from the past!"Liz Martin, Talk for Writing Project Leader, East Hunsbury Primary School
"Just thought I would offer a quick update. As planned, we are continuing to reinforce the strategies that you brought to us and ensuring that strategies are implemented across the school. During a recent LA review, the renewed and consistent focus on literacy was highlighted as much improved practice. Thanks again – you have left us with a strong legacy."Deputy Headteacher, Whitehaven
"Previously we did lots of speaking and listening but it didn't seem to emerge in the writing. The Talk for Writing techniques really motivated the children. Now they automatically read what they have written and discuss whether it sounds good. It has transformed the way they write."Leading teacher from Primary National Strategy Talk for Writing project primarysay
"Talk for Writing is a whole-school philosophy to teaching and learning that will catalyse improvement and raise aspirations across the school. Its impact is felt in every area of the school from the humdrum of the school's data to the vibrancy of the learning environments, excitement in the classroom atmosphere and the tangible buzz in the staff-room and renewed enthusiasm for a profession and moral purpose we all believe in passionately." James Munt, Executive Headteacher, Front Lawn Academy, Havant