Browse and book conferences with Pie Corbett
Pie Corbett is renowned for his inspirational training and feedback from delegates is consistently excellent. You can read recent quotes at the bottom of this page.
If you require a purchase order reference to appear on your invoice, this can be submitted via the online booking or emailed to finance@talk4writing.com. You will receive a confirmation email at the time of booking. Directions, course timings and an invoice will be emailed approximately 2-3 weeks before the event. Please be aware that sending a purchase order by email does not constitute a booking.
For general conference queries or changes affecting an existing booking, please email contact@talk4writing.com. For queries about conference invoices, please email finance@talk4writing.com.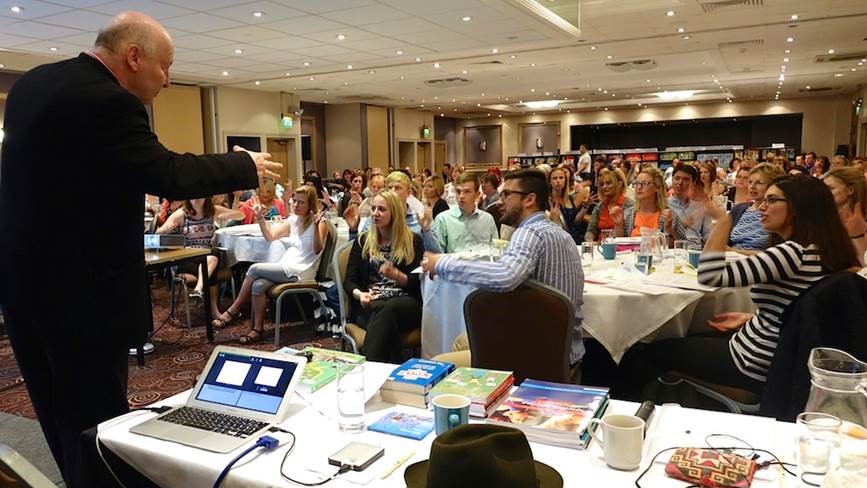 What to expect
A comprehensive delegate resource pack, including the presentation slides is provided on arrival. We sit delegates at cabaret-style tables to allow room to make notes. Video clips of teaching are used to illustrate examples of good practice and, throughout the day, the learning is visualised through the Talk for Writing 'washing line' technique.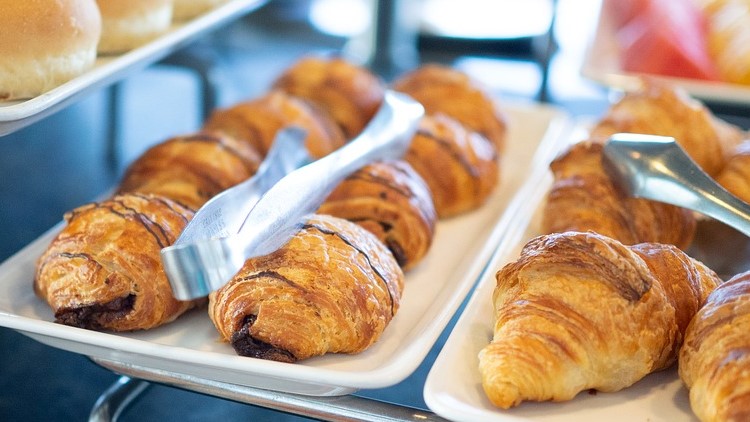 Our venues
We choose our venues carefully. Comprehensive directions will be provided by email prior to the conference. Talk for Writing Coordinator, Nick Batty, is on hand throughout the day to handle delegate requirements. All conferences include a hot fork buffet lunch and refreshments throughout the day.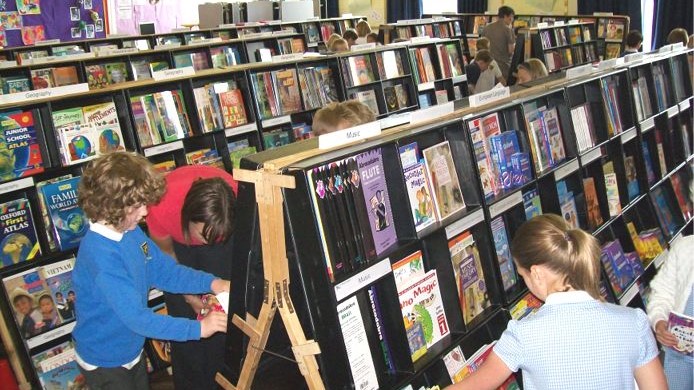 Conference bookshop
The Roving Books Children's Bookshop attends all Talk for Writing conferences in order to give delegates the opportunity to see and buy a wonderful range of quality children's books. We believe that good quality children's literature is extremely important.
What delegates have said about recent Talk for Writing conferences
"Mind blowing – have loved every single minute and can't wait to take it back to school"TFW IN SCOTLAND: P3-P7
"Best course I have been to for years and years. Good balance of info, resources, interaction and time to talk to colleagues"IMPROVING READING IN KS2 – WHAT WORKS?
"All was extremely informative. As a Headteacher, my head is now filled with ideas/action plans. Exciting times lie ahead"TFW IN SCOTLAND: EYS, P1 AND P2
"Having introduced TfW from the books, it was helpful to hear from the writer and be inspired"AN INTRODUCTION TO TALK FOR WRITING
"From start to finish, I thought it was all useful. Brilliant day"TALK FOR WRITING IN EY AND KS1
"This course gave me the opportunity to reflect on my own practice. I now have a good understanding of TfW and the changes I am going to make"TALK FOR WRITING IN KS2
"An extremely thought-provoking day, combining practical and theoretical strategies. I feel…re-invigorated to push this to a further level to achieve whole school consistency"IMPROVING READING IN KS2 – WHAT WORKS?
"Inspiring, has re-ignited my love of teaching English"TALK FOR WRITING IN KS2
"Realistic ideas that were well evidenced with examples. Love the process that connects all elements of writing"TALK FOR WRITING IN EY AND KS1
"Very inspiring and motivating course. I feel empowered to return to school and implement my ideas"TALK FOR WRITING IN KS2
"As a new Writing Lead, I feel I can approach my colleagues with ideas to bring the school together to 'sing from the same hymn sheet'"TALK FOR WRITING IN KS2
"This was easily the best course I have attended in many years. Please come back!"AN INTRODUCTION TO TALK FOR WRITING