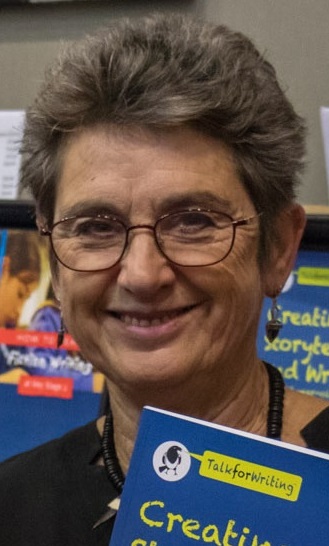 TfW Secondary Expert.
---
Available for training nationwide.
---
Julia provides Talk for Writing training and support for literacy across the curriculum in the secondary sector.
Julia provides training for local authorities, often including primary as well as secondary delegates with an additional focus on primary-secondary transfer, as well as the usual focus on showing secondary colleagues what high standards of literacy teaching primary colleagues can achieve.
Julia also provides training for English departments which, wherever possible, is strengthened by including teachers from local primary schools. She also offers training for specific curriculum areas, such as science or maths.
Training is much more effective if it is followed up by at least a second training day some months later, to allow people the time to trial the ideas and then consolidate their thinking in the follow-up session. It is always more effective if there is a project team which is trained prior to the first whole-school training day, and then this group can lead the approach within the school or within their section of the school and make certain that it is effective.
Julia offers a variety of project training in Talk for Writing, including training for all-through schools that cover both the primary and secondary stages. The project is adapted to meet the needs of the school, and can include training a team to deliver whole school training.
julia.strong@talk4writing.com
---
Find out more about TfW at secondary level, including training packages
"At last a literacy consultant who understands the phrase 'across the curriculum' rather than trying to make us all English teachers."Conference delegate
"Consistently engaging, highly relevant and practical."Conference delegate
"Julia was brilliant, passionate, inspiring."Conference delegate
"I attended your Talk for Writing conference in London last Friday (you may remember me, I was the Professor of Dragonology). I found the entire day truly inspirational! It is now my job to inspire others in my school."Reading Assistant Head (and Professor of Dragonology)